Wednesday, May 24, 2000,
Chandigarh, India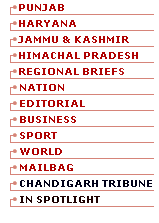 S P O T L I G H T

Israeli troops' pullout begins
DUBA, May 23 (UNI) — Israeli troops started evacuating one of their largest bases in south Lebanon last night, at least five weeks ahead of their planned withdrawal from the region. Regional news agencies said the Israeli troops began pulling out of Bint Aljubayel outpost after Israel's Security Cabinet late last night authorised hastening of the withdrawal. Israeli Prime Minister Ehud Barak was quoted as saying over Israel radio that the withdrawal would be completed within a few days. "We will redeploy on the international border in the next few days. This 18-year-old tragedy is over", he said.
Trishul test-fired
NEW DELHI, May 23 (UNI) — Trishul, a surface-to-air missile (SAM), was successfully flight tested against an aerial target flown by the Navy at INS Dronacharya, Cochin on May 20. The test was successful and the interception was within specifications, an official statement said here today.
Pilot killed in crash
JAIPUR, May 23 (UNI) — An Indian Air Force MIG-21 fighter plane crashed near Sarhad Nimbala in the border district of Barmer in Rajasthan this morning, killing its pilot.Rajasthan Director-General of Police (ADM) Ashok Bhandari said here the plane was on a regular sortie from Jaisalmer.
Death sentence
TEHERAN, May 23 (AFP) — A Teheran court has passed a death sentence on an Iranian found guilty of hijacking a plane in November 1993, the government newspaper Iran reported today. The sentence on Ali-Reza Karami Kheirabadi, who is in his 50s, was confirmed by the supreme court.