IN PASSING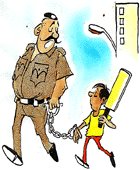 Son, I told you not to play cricket. Now you have been caught for cheating.
by Sandeep Joshi
Man dies in jail; inmates on rampage
JALANDHAR, May 26 — The death of a convict, allegedly due to cardiac arrest, drove infuriated inmates to create chaos in the local Central Jail complex last night as they did not allow the authorities to remove the body for 13 hours. The district administration has ordered an inquiry into the incident.
Terrorist-hit wait for jobs
AMRITSAR, May 26 — It was a gruesome sight when Krishan Lal, a labourer of Chheharta, was shot dead by terrorists on April 25, 1991. He was the sole bread winner of the family.
Mansions for elders and peacocks
PHILLAUR, May 26—Jarnail Singh kept tossing in the bed till about 9.00 a.m. when it was time for the village post-office to open. With the help of his stick he dragged himself out of the cot and staggered down the concrete village streets towards the post office.
EARLIER STORIES
(links open in a new window)
Speight rejects chiefs' plan
May 26, 2000
India, USA oppose Tamil state
May 25, 2000
India ready to evacuate Lankan troops
May 24, 2000
10 more companies for Tripura
May 23, 2000
NLFT on killing spree, toll 45
May 22, 2000
Cut subsidies, PM tells states
May 21, 2000
Fiji PM, Cabinet taken hostage
May 20, 2000
Lanka ready for talks with LTTE
May 19, 2000
23 killed in Lanka blast
May 18, 2000
Bill on devolution of taxes passed
May 17, 2000
J & K minister killed in landmine blast
May 16, 2000