Saturday, May 27, 2000,
Chandigarh, India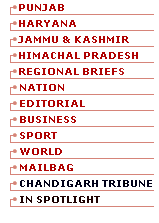 S P O T L I G H T

Indian Mi-35 for Sierra Leone
NEW DELHI , May 26 (PTI) — In a first ever such deployment, the IAF is flying three Mi-35 helicopter gunships to Sierra Leone to operate with UN's Indian peace keeping contingent, according to a Defence Ministry spokesman here. The gunships would be flown to Freetown, the capital of Sierra Leone, by the giant Russian AN-124 transport aircraft.
CBI conducts raids
BANGALORE, May 26 (UNI) — Sleuths of the anti-corruption wing of the CBI raided the offices and residences of two chief managers of the State Bank of Mysore and two directors of a company headed by a former Director-General of Police in connection with a cheating case involving Rs 3.5 crore.
10 die in stampede
LAHORE, May 26 (AFP) — Ten persons died and 100 injured in a stampede at a circus here, the police and witnesses said today.