Thursday, June 1, 2000,
Chandigarh, India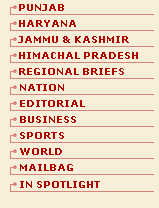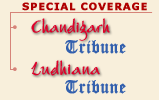 S P O T L I G H T
Troops repulse LTTE attack
COLOMBO, May 31 (PTI) — Twentysix Tamil Tigers, including 11 women fighters, were killed in armed confrontations with Sri Lankan security forces in the country's north and east even as the army claimed to have repulsed the LTTE's rocket-propelled grenade attacks at Chammani and Colombothurai near Jaffna town.
IA flights to Nepal
NEW DELHI, May 31 (PTI) — Indian Airlines (IA) will resume its service to Nepal from tomorrow after a five-month-long suspension of its flights to Kathmandu following hijacking of IC-814 to Kandahar Nepal has assured IA of beefed up security measures at Tribhuvan airport.
Diesel supply
MUMBAI, May 31 (PTI) — In a significant move, the Union Government today decided to halt inter-state road supply of diesel and also issue notifications banning use of naphtha and solvents in automobiles. "No discounts and financial incentives will be given to direct consumers of diesel", Petroleum Minister Ram Naik said.