Sunday, June 4, 2000,
Chandigarh, India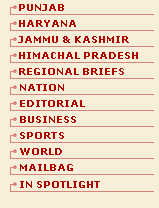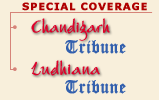 S P O T L I G H T
Immolation bid near Parliament
From Our Correspondent
NEW DELHI, June 3 — A 25-year-old unemployed youth of Kanpur, Shiv Kumar Gupta, who was frustrated on account of joblessness, attempted self-immolation at the roundabout at Parliament Street. He was admitted to the Ram Manohar Lohia Hospital by the police here. His condition was stated to be serious, the police said. This is the second incident of attempt at self-immolation in two weeks committed by the unemployed youths in the Capital. Mr Gupta came to the Capital only three days ago in search of a job. He was only 10th class pass. He came to the roundabout at Parliament Street this afternoon and burnt himself after pouring kerosene which he brought in a polythene bag, the police said. The fire was doused by Constable Ishwar Singh.
17 die in mishap
DEHRADUN, June 3 (UNI) — At least 17 persons, including nine women and a child, were killed and 27 injured when a bus fell into a gorge near Chamba in Tehri district of Garhwal yesterday. The tourist bus was on way to Gangotri from Rishikesh, when it fell into a gorge just four km away from Chamba. The accident occurred when the driver lost balance after the radiator of the bus burst, splashing hot water on his face.