Thursday, June 8, 2000,
Chandigarh, India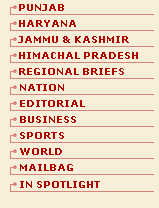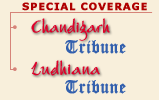 S P O T L I G H T
Meeting to review Lanka situation
NEW DELHI, June 7 — The Cabinet Committee on Security (CCS) is meeting here tomorrow to review the situation in Sri Lanka. Leader of the DMK group in Parliament and Commerce and Industry Minister Murasoli Maran will be invited to discuss Tamil Nadu Chief Minister M. Karunanidhi's statement of the ethnic violence in Sri Lanka. This was announced by Prime Minister Atal Behari Vajpayee on his return from a week-long vacation in Himachal Pradesh here this evening.
Remand for Mishra
PATNA, June 7 — The CBI Designated Court today remanded former Bihar Chief Minister Jagannath Mishra in 14 days' judicial custody in connection with one of the conspiracy angle cases of the multi-crore rupee fodder scam. CBI Special Judge S.K. Lal rejecting the regular bail petition of Dr Mishra, sent him to Beur Central Jail.