Friday, June 9, 2000,
Chandigarh, India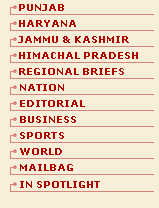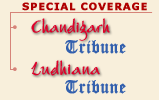 S P O T L I G H T
PM calls on President
NEW DELHI, June 8 (PTI) — Prime Minister Atal Behari Vajpayee called on President K.R. Narayanan at the Rasthrapati Bhavan here this evening. During the meeting lasting 75 minutes, he briefed the President on developments during the week Mr Narayanan was away on a state visit to China. Mr Narayanan apprised Mr Vajpayee of his talks with Chinese leaders, according to a Rasthrapati Bhavan spokesman. The President, who had been on a week-long state visit to China, had also visited the cities of Dalian and Kunming.
Ferry mishap
JAKARTA, June 8 (AP) — More than 30 Indonesians were feared dead after a ferry sank at sea between Java and the resort island of Bali, a local official said today. Karngun Sudono, an Indonesian seaport official in the East Javan town of Ketapang, said 49 persons were rescued after yesterday night's accident in the Bali Straits.