IN PASSING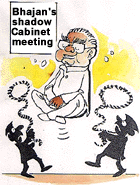 By Sandeep Joshi
Church blasts: Advani agrees to probe
NEW DELHI, June 9 — Home Minister L.K. Advani today agreed to depute central intelligence agencies to make a through probe into the recent bomb blasts at various churches in the country.
Williams accepted bribe offer
CAPE TOWN, June 9 — South Africa fast bowler Henry Williams admitted today he had accepted an offer of $ 15,000 from former captain Hansie Cronje to play badly in an international match, the South African Press Association (SAPA) reported.
PU Controller of Exams held
CHANDIGARH, June 9 — In yet another turn to the paper leakage episode concerning the question papers of the B.Sc (III) honours class of the Department of Mathematics, Panjab University, Chandigarh, the Controller of Examination, Mr Sodhi Ram, was remanded to the custody of the CBI for two days till June 11 by the Chief Judicial Magistrate, Mr Sant Prakash. He was earlier arrested this evening.
WB okays $ 516m loan
WASHINGTON, June 9 — The World Bank has sanctioned a loan of $ 516 million to India to upgrade its long-neglected national highways in Uttar Pradesh and Bihar and improve the management of its road networks.
Villager cages 40 peacocks
CHANDIGARH, June 9 — Over 40 peacocks are awaiting to be released from a human "captivity" at Lohgarh village, at a short distance from Zirakpur.
EARLIER STORIES
(links open in a new window)
No rift in NDA on Lanka: DMK
June 9, 2000
Lankan minister among 22 killed
June 8, 2000
Govt firm on Lanka unity
June 7, 2000
Kol dam work gets going
June 6, 2000
USA, Russia agree on plutonium cut
June 5, 2000
PM announces Rohtang tunnel
June 4, 2000
11 killed in J&K blast
June 3, 2000
Speight may be part of govt
June 2, 2000
Speight supporters go on rampage
June 1, 2000
Nailatikau named Fiji PM
May 31, 2000
Military takes over in Fiji
May 30, 2000
Gunshots near Mara's house
May 29, 2000