Tuesday, June 13, 2000,
Chandigarh, India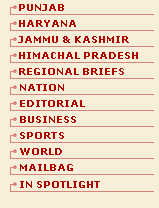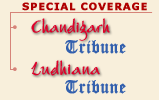 S P O T L I G H T
Indian team leaves for New York
NEW DELHI, June 12 (PTI) — With no indications of Revolutionary United Front (RUF) rebels releasing 21 Indian peackeepers held hostage by them in Sierra Leone, three members of the Indian official team there today left for New York for consultations with the United Nations representatives to break the impasse. "The hostages continue to be in the custody of the rebels at Pendembu and are out of communication for the sixth consecutive day," a Foreign Office spokesman told reporters here.

Bus driver arrested
JAIPUR, June 12 (PTI) — The police has arrested the driver of the state roadways bus, which collided with a jeep carrying senior Congress leader Rajesh Pilot. Pilot was killed in the accident at Bhadana, 45 km from here, yesterday. Ram Dhan Meena was arrested under various sections of IPC for negligence while driving, the police said today. Three bus passengers, injured in the mishap were discharged today after first-aid.