Thursday, June 15, 2000,
Chandigarh, India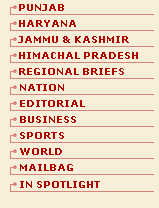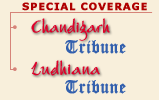 S P O T L I G H T
'No explosives' on hijacked ship
MUMBAI, June 14 (UNI) — A five-hour search of Italian ship M V Medstar, now docked in Mumbai harbour, did not yield any arms or ammunition in the possession of 14 stowaways of Iraqi and Iranian origin who had hijacked the ship five days ago in their quest for political asylum in a European destination. The extensive search was carried out by the bomb-disposal squad of the elite Mumbai police and the Coast Guard's expert technical team.
Ban on rallies
CHENNAI, June 14 (PTI) — The Tamil Nadu police today denied permission to a 'coordination committee of the Tamil Eelam supporters' to hold rallies in all district headquarters in the state on June 15. Director General of Police F.C. Sharma said here that stringent action would be taken against any group which sought to defy the ban and take out rallies.
LDF crisis continues
THIRUVANATHAPURAM, June 14 (PTI) — CPM-led Left Democratic Front in Kerala failed to reach an agreement on the dispute over sharing of Rajya Sabha seats as the front state committee meeting dispersed without taking any decision today. The LDF state committee would meet again to discuss the issue on June 16, the last date for the withdrawal of nominations.