Friday, June 16, 2000,
Chandigarh, India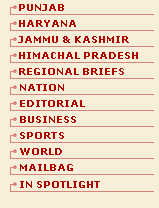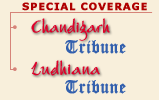 S P O T L I G H T
Air passengers escape unhurt
MUMBAI, June 15 (UNI) — An Air India Airbus-300 aircraft from Thiruvananthapuram with 191 passengers on board escaped a mishap following timely detection of smoke at its wheels while it was taxying to the bay after landing at the Chhatrapati Shivaji International Terminal at Sahar this afternoon. A spokesman of the airline said the smoke was suspected to have been caused due to jamming of brakes following increase in the temperature at the wheels. The passengers were immediately evacuated through shoots of the aircraft and taken to the terminal by coaches.
452 taken ill
SURAT (Gujarat) June 15 (PTI) — As many as 452 persons, mostly children, fell ill and were hospitalised after consuming a sweet dish on the occasion of Id-e-Milad festival here today. The suspected food poisoning occurred at Kadar Shaninal locality, official sources said.
Coordination panel
PATNA, June 15 (PTI) — Bihar Chief Minister Rabri Devi and RJD President Laloo Prasad Yadav have called a meeting of the coordination committee of the coalition allies on June 21 to discuss law and order even as BPCC Vice-President Padmasa Jha urged the Congress high command to immediately withdraw support to the Bihar Ministry.