Monday, June 19, 2000,
Chandigarh, India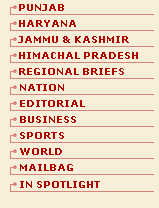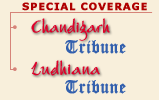 S P O T L I G H T
10 Tigers killed
COLOMBO, June 18 (UNI) — At least 10 LTTE guerrillas, including three female cadres, were killed in sporadic clashes in Sri Lanka's central and northern provinces overnight. In central Polonnaruwa district, troops fought with the Tigers in the general area of Wellikanda on Friday. Monitored transmission confirmed eight rebels, including three females, dead and 18 Tigers injured, a government statement said. In Mullaitivu, the troops launched mortar attacks on the rebels in Kokkuruduval.
B'desh opposition
DHAKA, June 18 (Reuters) — Opposition MPs in Bangladesh, who have boycotted Parliament for nearly a year in an effort to force the Prime Minister to resign, will return briefly to avoid losing their membership, party sources said today. The brief return to Parliament "is to protect their parliament membership from being scrapped,'' said one opposition leader who requested anonymity. Sunday newspapers said key opposition leaders, headed by former Prime Minister Begum Khaleda Zia, and decided that their followers would go to Parliament and sign the attendance register.
Iceland rocked
REYKJAVIK COPENHAGEN, June 18 (DPA) — An earthquake caused heavy damage to houses and streets in a region, about 90 km east of the Iceland capital Reykjavik, yesterday night. The Danish news agency Ritzau reported. The seismographic institute in the capital was quoted as saying the quake measuring 6.5 to 6.6 on the Richter scale was the strongest to hit the country since 1912.
Officer tortured
LONDON, June 18 (DPA) — An officer in Britain's Parachute Regiment was brutally tortured while held for 11 days by Sierra Leonean rebels and remains trapped in an encampment surrounded by rebels. The Sunday Times reported, but a government spokesman denied the officer had been seriously hurt. According to friends with whom he has made contact by satellite telephone, Major Andrew Harrison has suffered "horrific and traumatic injuries" at the hands of the Revolutionary United Front (RUF).