Tuesday, June 20, 2000,
Chandigarh, India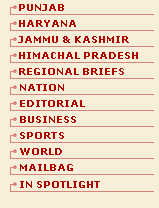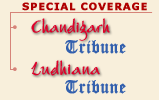 M A I N N E W S
Woman sells daughters
From Varinder Singh
Tribune News Service
JALANDHAR June 19 —Throwing all values of life to winds, a woman sold her two married daughters for money.
Middle-aged Lakshmi Bai, a resident of Kakya village in Mandal district of Madhya Pradesh, today stands as a sign of degeneration of morality after she was arrested for being a member of a gang involved in human trafficking. The lure of money proved to be so fascinating for her that she even did not spare her daughters, who were already married.
Lakshmi Bai, who married twice and had five daughters, allegedly sold one of her daughters Simran (not her real name), whose two marriages had failed to work, to Mohinder Singh, a resident of Jora Chhittran village in Gurdaspur district, for Rs 27,000.
Before being sold, Simran had first married a Madhya Pradesh-based man and later Joginder Singh of Basti Danishmandan here. The two marriages, however, failed to click and destiny swayed her to the lap of her mother, which instead of giving any protection sold her out like any other commodity.
She played the same role regarding her second daughter Rachna (not real name), who had been married on April 23 and unfortunately whose marriage also did not work.
According to Mr Gaurav Yadav, SSP, Lakshmi Bai sold Rachna for Rs 60,000 to Daljit Singh, a resident of Mauli village in Hoshiarpur district. Mr Jagjit Singh, SHO, Sadar police station said both daughters were sold against their wishes.
Interestingly, irked over the behaviour of their former mother-in-law, Joginder Singh and Santosh, both previous husbands of Simran and Rachna brought the matter to the notice of the police authorities, which in turn arrested Daljit Singh and Mohinder Singh, who had purchased the two, along with Lakshmi Bai from a city locality today.
A case has been registered against them under Sections 366\420 and 120-B of the IPC.