IN PASSING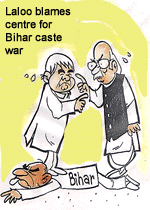 By Sandeep Joshi
Speight says Indians can join govt
WELLINGTON, June 19 — Fiji rebel leader George Speight, who has been holding the government hostage at gunpoint for over a month, said today that he was ready to make concessions, prompting hopes of an early end to the crisis, news reports said.
Babu Parmanand sworn in
CHANDIGARH, June 19 — Babu Parmanand was sworn in as the 12th Governor of Haryana by the Chief Justice of the Punjab and Haryana High Court, Justice A.B. Saharya, at a simple, but elegant ceremony here today.
Dr Yogesh Chawla to get MCI award
NEW DELHI, June 19 — Dr Yogesh Chawla, Professor and Head, Department of Hepatology of the PGI, Chandigarh, has been chosen for the prestigious Medical Council of India Silver Jubilee Research Award.
HP to insure poor women
SHIMLA, June 19 — The State Cabinet today introduced an insurance scheme for covering 5.72 lakh women of the age group of 10 to 75 living below poverty line in Himachal Pradesh.
Woman sells daughters
JALANDHAR June 19 —Throwing all values of life to winds, a woman sold her two married daughters for money. Middle-aged Lakshmi Bai, a resident of Kakya village in Mandal district of Madhya Pradesh, today stands as a sign of degeneration of morality after she was arrested for being a member of a gang involved in human trafficking.
EARLIER STORIES
(links open in a new window)
Bihar carnage: Special court to try killers
June 19, 2000
Ranvir Sena massacres 35 in Bihar"
June 18, 2000
Azhar, Kapil should quit: Dhindsa
June 17, 2000
Azhar introduced me to bookie: Cronje
June 16, 2000
Nine killed in UP poll violence
June 15, 2000
SAD expels 9 MLAs
June 14, 2000
India offers $ 100 m credit to Lanka
June 13, 2000
30 jawans killed in bus mishap
June 12, 2000
Jaswant visits Lanka today
June 11, 2000
Harpreet Kaur's death: HC orders CBI probe
June 10, 2000
No rift in NDA on Lanka: DMK
June 9, 2000
Lankan minister among 22 killed
June 8, 2000