Wednesday, June 21, 2000,
Chandigarh, India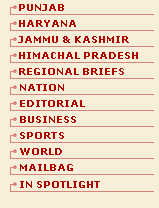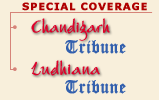 S P O T L I G H T
3 killed in UP panchayat poll
LUCKNOW, June 20 (UNI) — Three persons were killed and several injured in different parts of Uttar Pradesh during the polling in the third phase of panchayat elections in the state today. Besides, there were also reports of ballot paper snatching and booth-capturing from some places.
Chinese N-reactor
BEIJING, June 20 (PTI) — The controversial Chinese-made nuclear power reactor in Pakistan has begun partial operation, a media report said here. The China National Nuclear Corporation (CNNC) said the 300-MW reactor at the Chashma Nuclear Power Plant in Pakistan was connected to the power grid last week, China Daily newspaper reported.
Bihar gets Rs 28 cr
NEW DELHI, June 20 (UNI) — The Centre has released Rs 28.80 crore for Bihar as 50 per cent reimbursement towards security-related expenditure (SRE) on notified items/areas as per SRE guidelines, a Home Ministry spokesman said today.