IN PASSING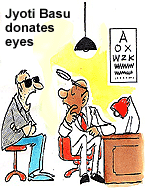 Doctor, if I have Jyoti Babu's eyes, can I dream of becoming Prime Minister?
By Sandeep Joshi
| | |
| --- | --- |
| | The Punjab Finance Minister Capt. Kanwaljit Singh, Delhi Chief Minister Sheila Dikshit, MP Chief Minister Digvijay Singh, Haryana Chief Minister Om Prakash Chautala and Rajasthan Chief Minister Mr Ashok Gehlot at the Chief Minister's conclave on State Finances organised in New Delhi on Wednesday. |
Chautala questions sugar levy price
NEW DELHI, June 21 — The Haryana Chief Minister, Mr Om Prakash Chautala, today disagreed on the manner in which the Centre fixed the levy price for sugar which he termed fell short of expectations.
Steps to curb violence in Bihar
PATNA, June 21 — As measures to put an end to extremist and caste-related violence, the Bihar Government today accepted the proposals, mooted by the Coordination Committee of ruling RJD and its allies, for holding elections to the panchayats and local bodies by February next year and setting up several commissions to accelerate development of the state.
BRO may shift HQ to city
SHIMLA, June 21 — The Border Roads Organisation is planning to shift the headquarters of the prestigious Deepak Project to Chandigarh from here. It is reliably learnt that the proposal to shift the Deepak Project, which is constructing and maintaining vital roads in Himachal Pradesh, is under consideration of the Surface Transport Ministry.
Liquor mafia forces rate slash
HISAR, June 21 — The notorious liquor mafia that had ensured the failure of prohibition in Haryana is active once again forcing liquor contractors to slash rates and offer sops to Bacchus lovers to meet competition from liquor smuggled in from the neighbouring states.
Bid to unite Tohra, Badal
CHANDIGARH, June 21 — The expulsion of Akali MLAs belonging to the Tohra camp and the threat to throw them out of the Assembly notwithstanding, serious efforts are on to unite the two warring factions. Both are now formal parties lead by Chief Minister Parkash Singh Badal and former SGPC President Gurcharan Singh Tohra. But ideology and politics remain the same.
EARLIER STORIES
(links open in a new window)
Stormy start to debate
June 21, 2000
Autonomy session begins
June 20, 2000
Bihar carnage: Special court to try killers
June 19, 2000
Ranvir Sena massacres 35 in Bihar"
June 18, 2000
Azhar, Kapil should quit: Dhindsa
June 17, 2000
Azhar introduced me to bookie: Cronje
June 16, 2000
Nine killed in UP poll violence
June 15, 2000
SAD expels 9 MLAs
June 14, 2000
India offers $ 100 m credit to Lanka
June 13, 2000
30 jawans killed in bus mishap
June 12, 2000
Jaswant visits Lanka today
June 11, 2000
Harpreet Kaur's death: HC orders CBI probe
June 10, 2000
No rift in NDA on Lanka: DMK
June 9, 2000