Thursday, June 22, 2000,
Chandigarh, India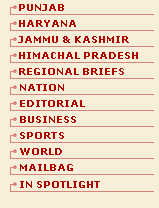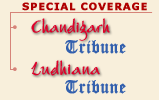 S P O T L I G H T
Delhi Archbishop dies in accident
NEW DELHI, June 21 (UNI) — Archbishop Alan de Lastic, president of the Catholic Bishops' Conference of India and Archbishop of Delhi, died in a car accident early today while returning to the Polish capital of Warsaw from Krackow where he had gone to the Shrine of the Black Madonna. The body of the 70-year-old Archbishop is being brought to Delhi for the funeral. The date of the funeral is yet to be decided, the CBCI said. A delegation from the CBCI and the Minorities Commission called on the Prime Minister to brief him about the incident. The Prime Minister's Office has asked the Indian Embassy in Warsaw to make early arrangements for the body to be brought back to India.
7 Tigers killed
COLOMBO, June 21 (PTI) — The Sri Lankan army today claimed to have killed seven LTTE guerrillas in three different counter-attacks on rebel positions in the northern Jaffna peninsula. Three LTTE rebels were killed when troops attacked a bunker occupied by them at Thattuvankottai in the peninsula while three more were killed in a similar attack on another bunker in Thanakilappu by the army yesterday, an official note said.
Arjun operated
NEW DELHI, June 21 (UNI) — Former Union Minister Arjun Singh underwent an operation of the prostrate glands at the All-India Institute of Medical Sciences here yesterday. The operation, which was performed by Dr N.P. Gupta, was successful and the Congress leader is in good health, his office said today.