IN PASSING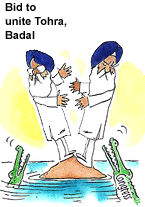 By Sandeep Joshi
'Lower taxes on agro inputs'
NEW DELHI, June 22- The Northern states of Punjab, Haryana and Himachal Pradesh today urged the Centre to lower the tax rates on major agricultural inputs like fertilisers and pesticides to help reduce the cost of foodgrains.
Albright begins talks with Chinese leaders
BEIJING, June 22 — The US Secretary of State, Ms Madeleine Albright, began talks with top Chinese leaders here today to discuss developments in Korea and contentious issues, including Taiwan and Tibet.
No deal to end Fiji crisis
SUVA, June 22 — Talks aimed at ending Fiji's political crisis ended here today without a deal to free the country's Prime Minister and other hostages held in Parliament, a spokesman for the military said.
Pregnant woman stripped
JAUNAWAS (Rewari), June 22 — Little did 22-year-old Mrs Kamla Devi know that she would have to lose her honour and her foetus for her husband's bold step to take up the cudgels against the liquor mafia at the village, about 8 km from Rewari on the Rewari-Delhi road. According to the general perception, the role of the police in the entire case was not above board.
'New Amritsar' plan cleared
CHANDIGARH, June 22 — It is now "New Amritsar", an ultra-modern urban estate spread over an area of 599 acres, which will be developed by the Punjab Urban Planning and Development Authority (PUDA). The proposal for this new urban complex has been approved by Punjab Housing and Urban Development Minister Dr Upinderjit Kaur.
Power through official 'kundi'
CHANDIGARH , June 22 — To facilitate farmers sow paddy the Punjab State Electricity Board will officially allow them to use "kundi" to operate tubewells .
EARLIER STORIES
(links open in a new window)
Farooq favours national debate
June 22, 2000
Stormy start to debate
June 21, 2000
Autonomy session begins
June 20, 2000
Bihar carnage: Special court to try killers
June 19, 2000
Ranvir Sena massacres 35 in Bihar"
June 18, 2000
Azhar, Kapil should quit: Dhindsa
June 17, 2000
Azhar introduced me to bookie: Cronje
June 16, 2000
Nine killed in UP poll violence
June 15, 2000
SAD expels 9 MLAs
June 14, 2000
India offers $ 100 m credit to Lanka
June 13, 2000
30 jawans killed in bus mishap
June 12, 2000
Jaswant visits Lanka today
June 11, 2000
Harpreet Kaur's death: HC orders CBI probe
June 10, 2000
No rift in NDA on Lanka: DMK
June 9, 2000