Friday, June 23, 2000,
Chandigarh, India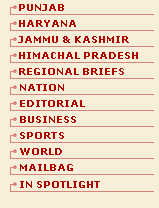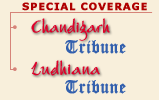 S P O T L I G H T
Savarkar Award for defence forces
NEW DELHI, June 22 (UNI) — The Veer Savarkar Award for outstanding contribution towards the country's defence for 2000 was awarded to jawans, sailors and airmen of the defence forces here today. The award was received by the Chief of Army Staff, Gen V.P. Malik, as Chairman of the joint Chiefs of Staff Committee at a function in the Chiefs of Staff Committee Hall.
Kathmandu flights
NEW DELHI, June 22 (PTI) — A month after partially resuming its flights to Kathmandu, suspended following hijacking of IC-814 to Kandahar, the Indian Airlines today decided to extend the move by restarting the service between Varanasi and Kathmandu from July 1.
42 die in plane crash
BEIJING, June 22 (Reuters) — All 42 passengers and crew abroad a Chinese domestic airliner were killed when it crashed into a suburb of the central city of Wuhan today, a local police official said.