IN PASSING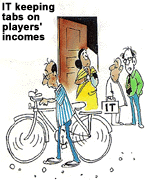 I am told he is an international kabaddi player!
By Sandeep Joshi
DGP orders probe into stripping case
JAUNAWAS (Rewari), June 23 — The Director General of Police, Haryana, Mr S.P.S. Rathore, has ordered a high-level probe into the alleged stripping of a woman in this village by a liquor vendor and his sister-in-law, last Wednesday. The police has arrested Vienna Yadav, sister-in-law of the main accused, Yadhvir Singh Yadav. Yadav was arrested on the day of the incident and the two were presented before newsmen at a press conference, convened by the Superintendent of Police, Rewari, Mr A.S. Chawla, today.
Illicit brew kills 1, blinds 2
BATALA, June 23 — One person had lost life, two lost their eye sight and yet another, too, possibility lost vision after consuming illicit brew in the town over the past week, victims and neighbours said today. The police said it had sent two officials to record the statements of the victims, pending investigation into what might turn out to be an organised crime in the sate illicit liquor in this industrial township of Punjab.
Foreign jaunts at taxpayers' cost
CHANDIGARH , June 23 — The Punjab ministers and bureaucrats have been going abroad at the slightest pretext. The outcome of their expensive trips is , perhaps, nil or of little use to the State . The frequency of their visits does not commensurate with the purported objectives .
EARLIER STORIES
(links open in a new window)
NC may put off autonomy debate
June 23, 2000
Farooq favours national debate
June 22, 2000
Stormy start to debate
June 21, 2000
Autonomy session begins
June 20, 2000
Bihar carnage: Special court to try killers
June 19, 2000
Ranvir Sena massacres 35 in Bihar"
June 18, 2000
Azhar, Kapil should quit: Dhindsa
June 17, 2000
Azhar introduced me to bookie: Cronje
June 16, 2000
Nine killed in UP poll violence
June 15, 2000
SAD expels 9 MLAs
June 14, 2000
India offers $ 100 m credit to Lanka
June 13, 2000
30 jawans killed in bus mishap
June 12, 2000
Jaswant visits Lanka today
June 11, 2000
Harpreet Kaur's death: HC orders CBI probe
June 10, 2000
No rift in NDA on Lanka: DMK
June 9, 2000