Saturday, June 24, 2000,
Chandigarh, India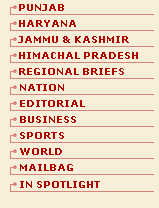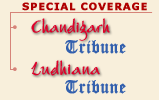 S P O T L I G H T

PIO card fee to be reduced: Advani
LONDON, June 23 (PTI) — India will suitable reduce the cost of the People of Indian Origin (PIO) card from the present $ 1,000, Home Minister L.K. Advani has said. "I agree that it (PIO card) needs to be revised. The process is on. It will be revised soon", Mr Advani told newsmen last evening, referring to complaints he received during his visit here about the high cost of the card.

'Mountain flight'
GANGTOK, June 23 (PTI) — The Sikkim Government has introduced a unique "mountain flight" to the top of Mount Kanchenjungha for the tourists. State Tourism Minister K.T.N. Gyaltsen said the flight had become popular abroad as many foreigners were now evincing interest about it.