Sunday, June 25, 2000,
Chandigarh, India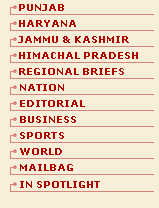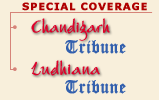 S P O T L I G H T
Maruti slashes prices
Tribune News Service
NEW DELHI, June 24 — The automobile market leader, Maruti Udyog Ltd, today slashed the prices of flagship model Maruti 800, Wagon R and Omni by up to Rs 25,000 in a bid to boost its slogging sales. Prices of Maruti 800 have been reduced in the range of Rs 10,000 to Rs 22,000, while Wagon R prices have been cut by Rs 25,000, MUL said in a release here. "We plan to kick-start the market out of its current uncertainty. With the Finance Minister's conclave yesterday laying the rollback issue to rest, we believe this is the correct time to stimulate the market with aggressive pricing," the MUL Managing Director, Mr Jagdish Khattar, said.
Tapes on match-fixing
JOHANNESBURG, June 24 (AFP) — South Africa's King Commission of Inquiry into cricket corruption will ask President Thabo Mbeki to help it obtain from the Indian police transcripts of tape recordings of a telephone conversation between former captain Hansie Cronje and a bookmaker, a spokesman said in a report today. "We have been working through the Department of Justice but, as a last resort, we will request the President to try to obtain the tapes for us," commission spokesman John Bacon told daily paper The Star.
10 electrocuted
FORBESGANJ (Bihar), June 24 (PTI) — Ten members of a marriage party were electrocuted and 50 others injured when the bus in which they were travelling came in contact with an overhead high-voltage electric cable at a village in Arario district, officials said today. The mishap occurred at Tulha village yesterday when the bus with 75 members of a marriage party was returning to Nepal's Sunsari district from Dhalha village.