THE TRIBUNE MAGAZINES
On Sundays

On Saturdays

IN PASSING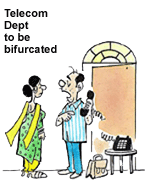 For this fault you will have to file separate complaints with the DTO, the DOT and lastly the DTS ...!
By Sandeep Joshi
| | |
| --- | --- |
| | Pope John Paul II looks at the gift received from Prime Minister Atal Behari Vajpayee at the end of their private audience in the Vatican on Monday. — photo by Reuters |
'Chawla gave money to Cronje'
CAPE TOWN, June 26 — Johannesburg sweet shop owner Hameed Cassim 'Banjo' today said he had arranged a meeting between bookmaker Sanjay Chawla and sacked South African cricket captain Hansie Cronje in a hotel in Durban during a one-day match between South Africa and Zimbabwe early this year.
Punjab okays power tariff hike
CHANDIGARH, June 26 — The Punjab Government today approved the increase in power tariff ranging from eight per cent to 14 per cent various categories of consumers, including domestic and Industrial.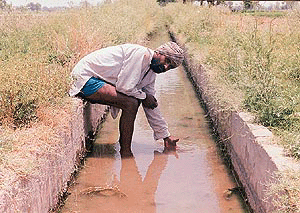 A farmer shows the level of water at the tail of a
tributary which brings canal water to the Jhanduka village near Rampura Phul.
Debt-ridden farmers cry for help
HARKISANPURA (Bathinda), June 26 — Pale looks, weary smiles and creased faces in this village reflect woes of debt-ridden farmers.
EARLIER STORIES
(links open in a new window)
Telecom Dept to be bifurcated
June 26, 2000
Panel on telecom corporatisation
June 25, 2000
Fiji rebels, army strike deal
June 24, 2000
NC may put off autonomy debate
June 23, 2000
Farooq favours national debate
June 22, 2000
Stormy start to debate
June 21, 2000
Autonomy session begins
June 20, 2000
Bihar carnage: Special court to try killers
June 19, 2000
Ranvir Sena massacres 35 in Bihar"
June 18, 2000
Azhar, Kapil should quit: Dhindsa
June 17, 2000
Azhar introduced me to bookie: Cronje
June 16, 2000
Nine killed in UP poll violence
June 15, 2000
SAD expels 9 MLAs
June 14, 2000
India offers $ 100 m credit to Lanka
June 13, 2000
30 jawans killed in bus mishap
June 12, 2000
Jaswant visits Lanka today
June 11, 2000