Thursday, June 29, 2000,
Chandigarh, India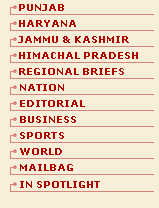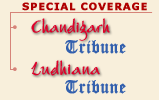 S P O T L I G H T

Military to rule Fiji for two years
SUVA, June 28 (AFP) — Fiji's military law authorities today said a deadline imposed on coup plotters to sign an agreement had expired and they would form a military government to rule for the next two years. Military spokesman Col Filipo Tarakinikini said the military would run the country for the next 24 months, review the Constitution, operate a 'normal' government and prepare for general elections.

Telecom stir
NEW DELHI, June 28 (UNI) — The one-day token strike call given by seven unions to protest against the move for corporatisation of the Department of Telecom Services (DTS) evoked partial response today as all the four recognised unions boycotted the call. They were opposing the proposed disinvestment of the MTNL, inordinate delay in payment of pension and settlement of pay and perks, besides the corporatisation of the DTS.

LTTE rejects offer
COLOMBO, June 28 (PTI) — The LTTE has rejected the Sri Lankan government's offer of ceasefire to be followed by peace talks, saying the cessation of hostilities would occur only if the 30,000 troops were withdrawn from northern Jaffna peninsula.