Saturday, July 1, 2000,
Chandigarh, India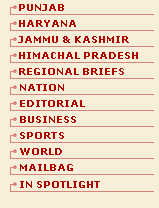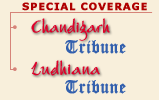 S P O T L I G H T
Excise assessment
NEW DELHI, June 30 (UNI) — The system of transaction value assessment for excise, making calculations norm-based and subject to less problems of interpretation, promised in the last Budget, is coming into operation from tomorrow. The new system is expected to make the valuation for assessment of excisable goods more systematic and in tune with international practices and would help in making it more realistic.
Gastroenteritis kills 6
UDHAMPUR, June 30 (UNI) — Gastroenteritis has claimed six lives in the Bwarwon area of Kishtwar tehsil in Doda district during the past two days, reports received here today said. About 200 persons, have reportedly fallen victim to the disease and have been admitted to a hospital. Some of them were stated in serious condition.