Tuesday, July 4, 2000,
Chandigarh, India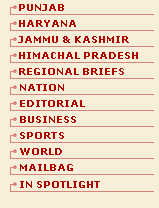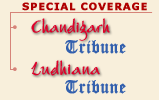 M A I N N E W S
Rs 2 lakh looted from Solan Brewery bank
From Romesh Dutt
SOLAN, July 3 — Five persons, four of them armed with revolvers and daggers, decamped with about Rs 2 lakh in a daring daylight bank robbery at Solan Brewery, near here, today.
According to Mr Y.P. Sharma, manager of the Solan Brewery branch of Punjab National Bank, three persons today entered the bank around 1.45 p.m., about 15 minutes before the cash was to close, while he was busy making a telephone call. He said that he was taken aback when one of the three persons brandished a revolver, snatched the telephone instrument from him and cut off the lines. Simultaneously, another person placed a dagger at the neck of the cashier and ordered him to hand over whatever cash he had even as the third person, who was armed with a revolver, ordered other bank employees to turn their faces towards the wall and sit down.
After collecting the cash in a bag, the dagger-wielding man directed the cashier to open the strong room. After some dilly dallying, all bank employees were marched off at gun point into the strong room, where the three armed men collected whatever booty was available in the bank's chest.
The bank peon, who went unnoticed as he had hidden in a corner of the main room, apparently under the impression that the robbers numbered only three, made an attempt to escape. He was, however, severely beaten up by an accomplice of the robbers who was standing "guard" outside the bank.
Two customers, who had the bad luck of entering the bank just when the robbers were going out, were also deprived of cash and a mobile phone.
The police, which was immediately informed, laid nakas on all roads leading out from Solan Brewery. the police took two bank employees and one of the looted customers away for possible identifications of the robbers.
However, no senior police officer could be contacted for detailed information as all had been detailed to do duty at nakabandis. The Subdivisional Magistrate, Mr Rakesh Dhiman, visited the looted bank, told local newsmen that a grey coloured Maruti 800, believed to have been used in the crime, had been found abandoned near Koti, on the Kalka-Shimla national highway, about 30 km from here, around 3 p.m. He said that a fifth accomplice of the armed robbers, had kept the engine of the car running while the dacoity was taking place.
Strangely, the bank branch, which was located in a secluded place on the national highway, did not have even a single security guard on its staff. A bank source said that the branch had been functioning without the requisite security for the past three years.
This was the second case of bank robbery in this district during the past six months. An extension counter employee of Punjab National Bank at Baddi was looted of Rs 2.5 lakh at gun point in January last.