IN PASSING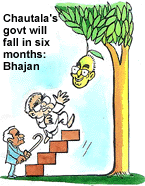 By Sandeep Joshi
More relief for Haryana pensioners
CHANDIGARH, July 3 — The Haryana Government today released another installment of dearness relief (DR) to its pensioners.
Foodless on a rusty ship
JALANDHAR, July 3 — They had dreamed of greener pastures in Germany. Towards this end each of them had spent a whopping Rs 4-5 lakh, arranged after selling of their small land holdings and other belongings.
Charges framed against Jaya
CHENNAI, July 3 — A Special Judge today framed charges against former Tamil Nadu Chief Minister Jayalalitha and nine others in the multi-crore coal import scam relating to the purchase of allegedly inferior quality coal for the state electricity board during Jayalalitha's chiefministership between 1991 and 1996.
Congress MLA commits suicide
SUNAM, July 3 — Bhagwan Dass Arora, Congress MLA from Sunam, allegedly committed suicide by shooting himself in his head at his residence here early this morning.


20,000 killer vehicles off the road
HISAR, July 3 — Road travel in Haryana has become safer with over 20,000 killer vehicles plying illegal being forced off the road. It is learnt that the number of major and minor accidents in the state dipped by a surprising 75 per cent during June.
EARLIER STORIES
(links open in a new window)