IN PASSING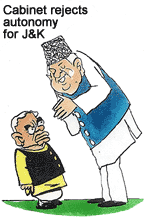 Thank you for helping me to regain my political stature!
By Sandeep Joshi
2-day ultimatum to Fiji rebels
SUVA, July 5 — Fiji's military today announced a two-day ultimatum for rebels to leave Parliament where they have been holding deposed Prime Minister Mahendra Chaudhry and 26 other hostages since May 19.
LEFT: A Fijian soldier climbs over a fence while patrolling near the Parliamentary complex in Suva on Wednesday. — Reuters photo
9 Sacha Sauda followers die in accident
FATEHABAD, July 5 — Nine persons, including five women, were killed and 23 others injured, four of them seriously, when a mini truck in which they were travelling hit a stationary truck near Daryapur village, 7 km from here, in the wee hours of today.
Ahmed Patel quits as AICC treasurer
NEW DELHI, July 5 — Factional feud in the Gujarat Congress today led to the resignation of AICC Treasurer, Mr Ahmed Patel, from the post.
Speed-breakers become status symbol
HISAR, July 5 — Illegally built speed-breakers on national and state highways have become a status symbol for villages in Haryana, exposing motorists to robberies and mishaps. The more defiant a village, more the number of speed breakers it has. In fact, speed breakers have become the yardstick for measuring the nuisance value of the village concerned for the area's politicos.
EARLIER STORIES
(links open in a new window)
Cabinet rejects J&K autonomy resolution
July 5, 2000
Autonomy demand will not end: Farooq
July 4, 2000
SAD may go in for mid-term poll
July 3, 2000
Atal meets NDA leaders, Thakre
July 2, 2000
Cabinet to decide on autonomy: PM
July 1, 2000
Jalandhar blast kills two
June 30, 2000
States resist federal agency plan
June 29, 2000
Parliament to decide on J&K resolution
June 28, 2000
J&K autonomy report passed
June 27, 2000
Telecom Dept to be bifurcated
June 26, 2000