Saturday, July 8, 2000,
Chandigarh, India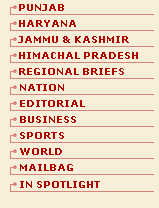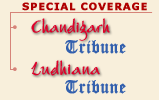 S P O T L I G H T

Police bursts tear gas shells
SURAT, July 7 (PTI) — A security guard at Surat Municipal Corporation (SMC) fired two rounds in the air and the police burst tear gas shells at separate places in the city to disperse stone-throwing mob of weavers during the Surat bandh today to protest against the power hike by the Gujarat Electricity Board. Three civic employees, attached to Udhna zone office of Surat Municipal Corporation (SMC), were injured when the weavers threw stones at the zone officer.
Order set aside
KOCHI, July 7 (UNI) — The Kerala High Court today set aside the state government order sanctioning 360 plus two schools during the year 2000-2001. A Division Bench comprising Chief Justice A.V. Savant and Mr Justice K.S. Radhakrishnan directed the state government to reconsider the 1429 applications for starting the course and publish a fresh list by July 26 so that the courses could be started in the selected schools by August 1. The court said the government had acted in an arbitrary manner in selecting the 360 institutions.