Monday, July 10, 2000,
Chandigarh, India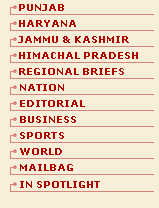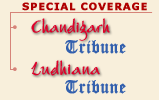 S P O T L I G H T

Blast in church compound
BANGALORE, July 9 (PTI) —an explosion took place in the compound of St.Peter and Paul Church in j j Nagar in the city late tonight, the police said. According to Global Council of Indian Christians' national convener Sajan K George, a crude bomb went off as Christians were leaving after attending a feast but added no one was hurt.
Businessman shot
JAIPUR, July 9 (PTI) — A businessman was shot and three were injured by masked gunmen, who also robbed them of cash near Ajmer, the police said here today. A group of businessmen from Ludhiana had come to purchase marble at Madanganj-Kishangarh on the Ajmer highway yesterday, when the gunmen opened fire on them.
13 feared drowned
MUMBAI, July 9 (UNI) — Thirteen youth, who went for a swim in the rough Arabian Sea today ignoring all warnings, were feared to have drowned, the police said. Only one member among a foolhardy group of 14, aged between 18 and 26, which went for the swim at Aksa beach, returned this evening.