Thursday, July 13, 2000,
Chandigarh, India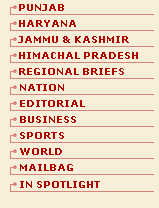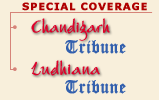 S P O T L I G H T
Rains claim 19 lives
MUMBAI, July 12 (UNI) — At least 19 persons were killed in rain-related incidents, even as the authorities were making efforts on a war-footing to restore normalcy in the city, which was paralysed completely following heavy downpour during the past 24 hours. Police and fire brigade sources said 16 persons were killed in two incidents of landslides in Ghatkopar and Vikhroli in north-east Mumbai, while three others were washed away in drains in Santa Cruz.
BSF kills 3 Bangladeshis
SHILLONG, July 12 (PTI) — Three Bangladeshi infiltrators were shot dead by BSF personnel near Muktapur, close to the India-Bangladesh border, in Jaintia hills district on Monday, a senior BSF official said today.
50 feared dead
ISLAMABAD, July 12 (DPA) — At least 50 persons, mostly schoolchildren and their teachers, were feared dead in a bus crash overnight in northern Pakistan, it was reported today.