Sunday, July 16, 2000,
Chandigarh, India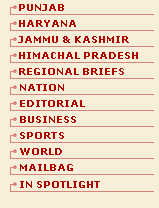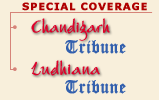 S P O T L I G H T
Harry Potter casts spell
NEW DELHI, July 15 (UNI) — Child wizard Harry Potter cast a spell on children as the newest book in the fantasy series sold like hot cakes on its India debut today. Bookshops in the capital sold more than half of their stocks on the first day as children made a beeline for Harry Potter and the "Goblet of Fire by" British Author J.K. Rowling. "Books disappeared fast despite the high price, said Suparna Vaidik of "the Book Mark" at the upmarket south extension.
Church blast: 2 held
HUBLI (Karnataka), July 15 (UNI) — The Corps of Detectives today cracked the July 8 St John's Lutheran Church blast case in Hubli with the arrest here of two office-bearers of the Hyderabad-based Deendar Anjuman Institute. Corps of Detectives SP M.R. Pujar, who is heading the investigation team on the Hubli blast, told newspersons that the arrested were Anjuman Secretary Syed Muniruddin Mulla (38) and Joint Secretary Rishi Hiremath (30), both residents of Hubli. They would be produced before the competent jurisdictional court tomorrow.
Mother poisons kids
Tribune News Service
SAS NAGAR, July 15 — A women allegedly poisoned her two children, Jaiti (5) and Harjeet (6) at Kumbra village here late this evening. They were admitted to the Sector 32 hospital at Chandigarh. There was no information on the mother of the children.
Kalyan's charge
MEERUT, July 15 (PTI) — Former Utter Pradesh Chief Minister Kalyan Singh today alleged that the BJP, including Prime Minister Atal Behari Vajpayee, the RSS and the VHP had conspired to demolish Babri Masjid in Ayodhya on December 6, 1992, and had not given any "hint" to him about it.