Wednesday, July 19,
Chandigarh, India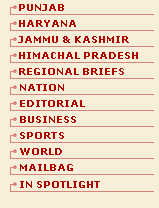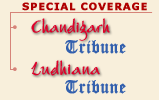 S P O T L I G H T
Fernandes to meet peacekeepers
NEW DELHI, July 18 (PTI) — Defence Minister George Fernandes will interact with Indian peacekeepers, including the 220 rescued soldiers, during his four-day visit to Sierra Leone from tomorrow. Mr Fernandes, heading a seven-member delegation, will leave for Freetown tonight and return here on July 22, the Defence Ministry said.
Two pilgrims die
SRINAGAR, July 18 (PTI) — Two pilgrims, including a woman, died today on way to the 3880-metre high Amarnath cave shrine in South Kashmir, an official spokesman said here. Mr Dev Raj Gulati (60), a resident of Delhi died near the cave this morning, the spokesman told PTI. He said Sarwati Bhai (58) a resident of Sura-Aaras Society, Gujarat, died in an Anantnag hospital today.