Friday, July 21, 2000,
Chandigarh, India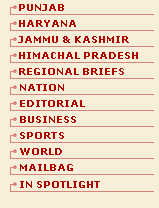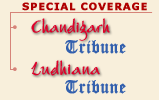 S P O T L I G H T
Mizo missionary robbed, assaulted
AIZAWL, July 20 (PTI) — Suspected armed militants belonging to Bru National Liberation Front (BNLF) assaulted and robbed a Christian Mizo missionary working in the Chakma village of Hnahva in Mamit district, police reports today said. Vanlalhlira Hnamte was beaten up in front of his residence on Saturday night by the ultras.
Army deployed
GUWAHATI, July 20 (PTI) — Army has moved into central Assam's trouble-torn Karbi Anglong district, following fresh incidents in the hill district, scene of "ethnic cleansing" of 22 tribesmen and non-tribesmen in clashes since July 15. Chief Minister Prafulla Kumar Mahanta said.