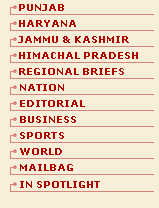 Saturday, July 22, 2000, Chandigarh, India
CRR, bank rate up; Re at all-time low
PDS rice and wheat rates cut
MUMBAI, July 21 — The rupee plunged against the US currency on heavy all-round dollar demand to close at an all-time record low of Rs 45.01/03 in volatile trade at the interbank foreign exchange market here today.
Income tax raids conclude
Lockers sealed, accounts frozen
NEW DELHI, July 21 — Income Tax officials, who had yesterday carried out raids on the residential and office premises of former and present international cricketers, cricket administrators and bookies, today sealed a large number of lockers, bank accounts and seized incriminating documents related to their undisclosed income and unexplained expenditure.
CAST YOUR VOTE
Is the proposed Prevention of Terrorism Bill necessary?