Saturday, July 22, 2000,
Chandigarh, India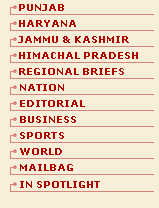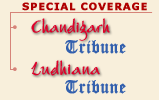 S P O T L I G H T
BJP to launch signature drive
SHILLONG, July 21 (UNI) — The BJP will launch a signature campaign in the North-East states, excluding Assam and Tripura, by the end of August in support of their five-point programme aimed at the region's development. Stating this here on Friday BJP general secretary and in charge of the north-east region P.B. Acharya said the five-point demand included the separation of the judiciary from the administration, availability of pure drinking water in rural areas, constitution of a committee to monitor the implementation of centrally funded schemes, development of information technology in the region and tapping of hydro-electric power.
Five killed as boat overturns
DARBHANGA (Bihar), July 21 (UNI) — At least five persons were feared drowned when a country boat carrying them overturned mid-stream in the Karehe river near Rupauliya Ghat in the district on Thursday. The police said the body of a woman had been recovered so far. The ill-fated boat was carrying over 40 persons, when the incident occurred. As many as 35 persons, however, swam ashore.
Two militants killed
GUWAHATI, July 21 (UNI)— Two hardcore ULFA militants were killed in an encounter with the police at Baranghati village of Nalbari district on Thursday, the police said. The militants have been identified as Apurba Medhi and Ajit Medhi.
Centre undecided
NEW DELHI, July 21 (UNI) — The Centre has not taken any decision yet on extending the ceasefire with the NSCN-IM, due to expire on July 31.