Sunday, July 23, 2000,
Chandigarh, India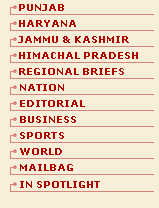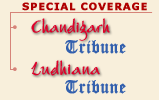 S P O T L I G H T
Narrow escape for Dhindsa
NEW DELHI, July 22 (UNI) — A helicopter carrying Union Sports Minister Sukhdev Singh Dhindsa and his deputy Syed Shahnawaz Hussain missed a crash in heavy fog in the Dras sector of Jammu and Kashmir today, official sources here said. Jammu and Kashmir minister Surjit Singh Saletia and Union Sports Secretary M.M. Khanna were also in the chopper when it missed an electric cable between Sonamarg and Tololing. They were returning, after a function in connection with the anniversary of the Kargil war to Srinagar. The sources said Mr Saletia noticed the cable and immediately alerted the pilot, who swerved to save the copter.
Bihar cops on strike
PATNA, July 22 (PTI) — More than 18,000 members of the Bihar Police Association (BPA) have decided to go on mass casual leave for a week from midnight tonight to press for their 12-point charter of demands. In a statement here, BPA General Secretary K.K. Jha said officers from the rank of assistant sub-inspector to inspector would be off duty. The demands include ex-gratia payment of Rs 2.5 lakh to the families of policemen killed in action, need-based promotion, stopping political interference in transfer and posting and equipping policemen posted.
Chowdhury defiant
NEW DELHI, July 22 (PTI) — A defiant West Bengal PCC President A.B. A. Ghani Khan Chowdhury today boycotted a crucial meeting of state leaders convened by the AICC where a number of partymen underlined the need for talks with Trinamool Congress for seat adjustments for next year's assembly elections.
2 planes grounded
CALCUTTA, July 22 (PTI) — Close on the heels of the crash of an Alliance Air plane at Patna claiming 56 lives, two of its aircraft were grounded at Portblair in Andamans and at NSC Bose International Airport here today. Alliance Air sources said Portblair plane was grounded on detection of technological snag during pre-flight checks on its return journey to Calcutta.