Monday, July 24, 2000,
Chandigarh, India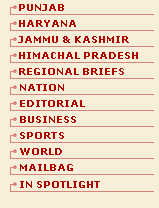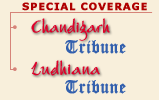 S P O T L I G H T

Quetta explosion kills 9 soldiers
QUETTA, July 23 (AP) — A powerful explosion killed nine soldiers today and injured 28 others, many of them military personnel, ambulance and hospital officials said. The explosion occurred in Jinnah market in Quetta, Baluchistan's provincial capital.
Purulia convict
LONDON, July 23 (PTI) — Britain will press the Indian Government to release its businessman Peter Bleach jailed for life in Calcutta in the sensational Purulia arms drop case, the Sunday Telegraph newspaper reported today. British Home Secretary Jack Straw will raise the case of Bleach (48), during his visit to India in September, it said.
Law portfolio
NEW DELHI, July 23 (UNI) — Information and Broadcasting Minister Arun Jaitley is understood to have been asked to hold additional charge of the law and justice portfolio following the acceptance of resignation of Mr Ram Jethmalani. It is reliably learnt that the disinvestment portfolio being held by Mr Jaitley is being allocated to Minister of State Arun Shourie
5,000 court arrest
NEW DELHI, July 23 (UNI) — Defying prohibitory orders, about 5,000 volunteers of the Uttarakhand Sanyukt Sangharsh Samiti courted arrest here today, demanding the passage of the Bill for the creation of Uttarakhand in the monsoon session of Parliament.
UP Govt official shot
LUCKNOW, July 23 (PTI) — Gunmen shot dead Dr Bachhi Lal, Director General (Family Welfare), Uttar Pradesh, while he was taking a morning stroll near the Gokhale Marg area here today.
Tiger Wood wins
ST ANDREWS, Scotland, July 23 (Reuters) — World number one Tiger Woods produced yet another superb display to win the British Open golf tournament by a commanding eight shots today and become only the fifth player to complete a career grand slam of all four major tournaments.