Wednesday, July 26, 2000,
Chandigarh, India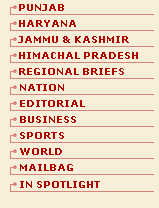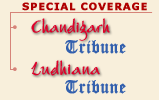 S P O T L I G H T
Middle East peace talks fail
THURMONT (Maryland), July 25 (AP) — The Camp David summit in pursuit of a Middle East peace settlement collapsed today. "The President has concluded that the two sides are not able to reach an agreement at this time", said White House spokesman Joe Lockhart. President Bill Clinton was returning to Washington to make the announcement.
Priest shot dead
AGARTALA, July 25 (PTI) — A Catholic priest was killed and three other missionaries were injured when a group of unidentified militants opened fire at them in North Tripura district today, a police official said.
Gulshan case
MUMBAI, July 25 (UNI) — The Gulshan Kumar murder case took a new turn today with permission being given to two London-based advocates to cross-examine an accused-turned-approver in the prosecution before the first Additional Principal Sessions Judge A J Dholarkia.