Saturday, July 29, 2000,
Chandigarh, India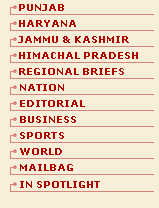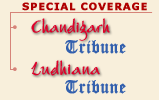 S P O T L I G H T

Basu admitted to AIIMS
NEW DELHI, July 28 — Veteran Marxist leader Jyoti Basu, who has been at the helm in West Bengal for a record 23 years, is being attended to by a team of cardiac specialists at the All-India Institute of Medical Sciences (AIIMS) following complaints of uneasiness. Mr Basu was admitted this morning to Ram Manohar Lohia Hospital where the doctors described his condition as stable but later suggested that he be moved to AIIMS. He has been admitted to the coronary care unit of AIIMS where his condition is being closely monitored.
Suspended judge
MUMBAI, July 28 — Suspended judge J.W. Singh, facing charge of alleged extortion and nexus with the underworld, was today further remanded to judicial custody until August 4 by a special court which directed the prosecution to open its case on that day. Special Public Prosecutor Ujjwal Nikam urged before the designated Judge A.P. Bhangale that certain vital issues in the case had cropped up during interrogation and he would prefer to discuss them with the top brass of the Maharashtra Government before disclosing them in the court.