IN PASSING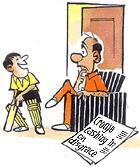 I will play cricket, fix matches, confess and become rich by selling television and book rights!
By Sandeep Joshi
Padmanabhan may be new Army Chief
NEW DELHI, July 31 — There is an air of expectancy prevailing in the Army headquarters (AHQ) and the corridors of the Ministry of Defence (MoD) over the appointment of the next Chief of Army Staff.

Wadali brothers 'defrauded'
AMRITSAR, July 31 — World-renowned Punjabi singers the Wadali brothers have not recorded a single cassette even 10 years after getting the President's award while newcomers have earned lakhs of rupees by imitating their music. But the Wadali brothers prefer to stay away from the rat-race despite record companies hankering for their recording.



Shaheed Udham Singh Chair instituted
KURUKSHETRA, July 31 — A virtual sea of humanity had descended at the state-level function organised at Shahbad to pay rich tributes to Shaheed Udham Singh on his martyrdom day reminding one of the popular couplet "Shaheedon ki chitaon pe lagenge har baras mele, Watan par marne walon ka yahi baki nishan hoga" (There will be annual fairs at the tombs of martyrs, this is what they will leave behind after their death).
EARLIER STORIES
(links open in a new window)
30 Indians held hostage, freed
July 31, 2000
Hurriyat welcomes talks offer
July 30, 2000
Govt orders probe into leakage
July 29, 2000
LS, RS adjourned on Jethmalani issue
July 28, 2000
Nation salutes Kargil martyrs
July 27, 2000
Court discharges Thackeray
July 26, 2000
Jalandhar bus blast kills 7
July 25, 2000
Police gets orders to prosecute Thackeray
July 24, 2000
President pardons Purulia case convicts
July 23, 2000