Tuesday, August 1, 2000,
Chandigarh, India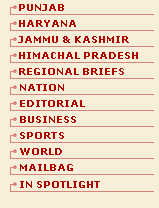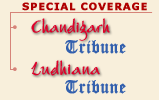 S P O T L I G H T

Villagers lynch 8 dacoits
CALCUTTA, July 31 (UNI) — Close on the heels of Nannur massacre on Thursday, at least eight persons were lynched at Kachua village in South 24 Parganas district today. Deputy Chief Minister Buddhadev Bhattacharjee said the victims were suspected to be dacoits who were apprehended by the villagers and beaten to death. He, however, said he had been awaiting a fuller report on the incident. He would make a statement in the state assembly tomorrow. The sources said the dacoits looted three shops in the area last night. As the villagers sealed all exit routes of the village, the looters hid themselves in jungles.
Securities scam
NEW DELHI, July 31 (UNI) — A city court today discharged big bull Harshad Mehta, former Maruti Chairman-cum Managing Director V. Krishnamurthy, his two sons and their firm K.J. Investments in the multi-crore rupee securities scam. "After going through the entire material on record, there are prima facie no sufficient grounds to proceed against any of the accused since the essential ingredients of criminal conspiracy are not attracted in the case as V. Krishnamurthy and Harshad Mehta were not known to each other", special judge V.B. Gupta said in his order.
15 devotees killed
GWALIOR, July 31 (UNI) — As many as 15 persons were killed and around 20 others injured in a truck and tractor—trolley collision on the Agra-Mumbai national highway, 18 km from here this afternoon. Superintendent of Police Anwesh Mangalam said the tractor-trolley was carrying devotees from Devari village in Shivpuri district to the Sheetala Mata temple in Gwalior. The injured have been admitted to the hospital here.