Wednesday, August 2, 2000,
Chandigarh, India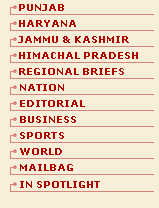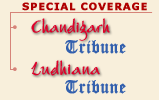 S P O T L I G H T
Ali Sardar Jafri dead
MUMBAI, Aug 1 (PTI) — A crusader against imperialism and exploitation and a leading light of progressive Urdu poetry, Ali Sardar Jafri died here this morning following a protracted illness. He was 86. He is survived by his wife, two sons and a daughter. He was admitted to a Bombay hospital for treatment of brain tumour which was detected in March last.
Rupee slumps
mumbai, Aug 1 (PTI) — The rupee slumped against the US currency to close at a new all-time low of Rs 45.15/17 at the interbank foreign exchange (forex) market today following a fresh wave of heavy dollar short-covering by banks and corporates. Opening around Rs 45.02/05 per dollar, the rupee tumbled down to a historic low of Rs 45.17/18 on persistent dollar demand from corporates and importers, before settling at Rs 45.15/17 at the end of trading hours. The Rupee has, thus, depreciated by a whopping 13 paise in a single session today.
4 jawans killed
JAMMU, Aug 1 (UNI) — At least four jawans of GREF were buried alive when a landslide wrecked their barrack in Poonch district this morning. An official spokesman said the landslide fell on a barrack at GREF headquarters in border district of Poonch this morning, resulting in four of its employees being buried alive.