IN PASSING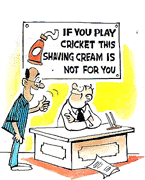 This ad has made us market leaders in shaving cream!
by Sandeep Joshi
---
SAD to oppose Uttaranchal Bill in RS
New Delhi, Aug 2 — Bitterly annoyed over the inclusion of Udham Singh Nagar into the proposed Uttaranchal state, the Shiromani Akali Dal today said it would oppose the Uttar Pradesh Reorganisation Bill 2000 in the Rajya Sabha besides taking up this issue with the NDA partners.
Centre trying to appease SAD
NEW DELHI, Aug 2 — The Atal Behari Vajpayee government is now trying to accommodate the Punjab Chief Minister, Mr Parkash Singh Badal, after having decided to include the Udham Singh Nagar district in the proposed new state of Uttaranchal.
Related stories on Punjab page
Gopal contacts Veerappan
CHENNAI, Aug 2 — Emissary to the Tamil Nadu and Karnataka governments and Tamil magazine Nakkeeran editor R.R. Gopal established contact with Veerappan early today to negotiate the release of Kannada matinee idol Rajkumar and three others being held hostage by the forest brigand since Sunday, official sources said here.
Decades of development washed away
SHIMLA, Aug 2 — The unprecedented flashfloods in the Sutlej river have pushed back the clock of development by decades. Life has virtually come to a standstill in the affected areas of Kinnaur and Rampur sub-divisions, which bore the brunt of the river's fury. The costly infrastructure created through years of painstaking effort, investing billions of crores of rupees was wiped out within a matter of few hours.
EARLIER STORIES
(links open in a new window)
150 feared dead in HP flashfloods
August 2, 2000
Veerappan kidnaps thespian Rajkumar
August 1, 2000
30 Indians held hostage, freed
July 31, 2000
Hurriyat welcomes talks offer
July 30, 2000
Govt orders probe into leakage
July 29, 2000
LS, RS adjourned on Jethmalani issue
July 28, 2000
Nation salutes Kargil martyrs
July 27, 2000
Court discharges Thackeray
July 26, 2000
Jalandhar bus blast kills 7
July 25, 2000
Police gets orders to prosecute Thackeray
July 24, 2000
President pardons Purulia case convicts
July 23, 2000