Thursday, August 3, 2000,
Chandigarh, India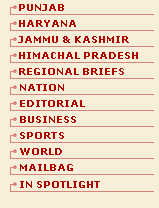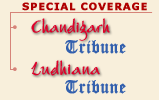 S P O T L I G H T

Rupee dips to all-time low
MUMBAI, Aug 2 — The rupee's recent sharp decline against the dollar gathered further momentum today and it tumbled down to a fresh all-time intraday low of Rs 45.37/39, before settling down at Rs 45.32/33, yet another lowest ever close, pressurised by heavy all-round dollar demand. The RBI did not intervene either by selling dollars in support of the rupee or making any statements, which the market was eagerly awaiting.
Clinton sympathises
NEW DELHI, Aug 2 — Conveying Washington's deepest sympathies over the massacres in Jammu and Kashmir, U.S. President Bill Clinton tonight told Prime Minister Atal Behari Vajpayee that he would speak to leaders of Pakistan and "do everything possible to contain such activities. Clinton's stiff warning to Pakistan comes in the wake of Washington's repeated calls to Islamabad to stop cross-border terrorism in J and K and create the right atmosphere for resumption of the stalled Indo-Pak dialogue.
Pak's no-war pact
ISLAMABAD, Aug 2 — Pakistan's military ruler General Pervez Musharraf said today that he was ready to enter into a no-war agreement with India, and urged the New Delhi to embrace the proposal. "I am for no-war pact with India. Let India come forward", Gen Musharraf told the BBC in a live Internet interview from Rawalpindi.