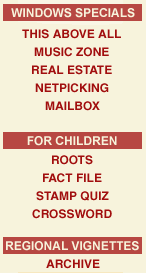 Synonyms
COMING from the Greek "same" plus "name", one would be justified in defining synonyms as lexemes which have the same meaning. A neat, precise definition which sounds straightforward enough. But try calling for help with cries of "conflagration" when caught in a fire! Or ask for aqua pura instead of mineral water at a time of dire thirst. The realisation is quick to come: there can be no two lexemes which have exactly the same meaning. It is mostly possible to find some nuance which separates them, or a context in which one word may appear and the other or others cannot.
There may be a dialect difference between words which are otherwise synonymous in meaning, making the communication impossible to understand. The British autumn cannot be replaced by the American fall; loo is accepted in American English but the British prefer restroom or toilet.
Stylistic differences between words also stand in the way of the perfect synonym. Insane and loony: the former is formal and the latter informal. At the table, one can ask for salt but not sodium chloride because it belongs to the technical register of chemistry. A friend cannot be addressed as thou. And when you marry, you are espousing yourself as per the dictionary of synonyms, but try printing that on the wedding invitation card!
There are collocational differences which we take into account before using words. Some words Ďbelong togetherí and canít be substituted easily. A murder is committed, never accomplished or achieved and a task is never committed even though the sense of Ďcarry outí would be applicable. Ignorance is always monumental but brilliance is never monumental, a loss is monumental, even though a profit is not. Coffee with milk may look sepia, hazel, beige, khaki, bronze, amber or any other brown, but it is white. Rancid and rotten mean the same but butter is always rancid and apples are always rotten.