Monday, August 7, 2000,
Chandigarh, India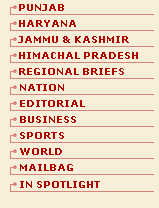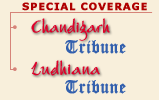 L U D H I A N A
Malaria, viral fever cases on rise
LUDHIANA Aug 6 — The city is again in the grip of malarial and viral infection. Hundreds of cases of malaria and viral fever have been reported during the past one week from various parts of the city.

A jaggery seller makes a deal in Gur Mandi, Ludhiana
Gur Mandi develops new tastes
LUDHIANA Aug 6 — Gur Mandi has been the hub of wholesale trade in the town for ages. The place has all kinds of dealers and traders who sell virtually anything you want to buy. Enter the market from the Chaura Bazar side and you find some karyana shops selling spices, pulses and things like that. Tikki-Gur displayed prominently in all these shops is a silent introduction of the market. There are also some muniari shops (general stores) which are a hit with womenfolk.
Boundary wall broken, residents sore
LUDHIANA Aug 6 — Residents of the Rajguru Nagar locality and Improvement Trust Colony on the Ferozepore Road here are angry over the demolition of a 2.5-foot boundary wall, erected at the dead end of the colony, by some anti-social elements. They also took away the material and an iron grill put up on the top of the wall.

PUDA sangat darshan a damp squib
LUDHIANA Aug 6 — Residents of PUDA colonies, in their over zeal to explain their problems to the Minister for Housing and Urban Development, Punjab, Mrs Upinderjit Kaur, and senior PUDA officials, created a chaotic situation in the sangat darshan programme, which followed an inauguration of the computerised single-window system in the PUDA headquarters at the Samrala road, Urban Estate here on Friday.

Power generators a necessary evil during power cuts
LUDHIANA Aug 6 — When electricity plays truant in Ludhiana, the streets echo with the roar of thousands of generator sets. While the user relaxes in the comfort of his cool bedroom, he is oblivious to the harassment caused to his neighbours or passers-by.

Mystery shrouds kidnap case
LUDHIANA Aug 6 — The alleged kidnapping of Mrs Priya Grewal (32), a schoolteacher of Gurdev Nagar, remains a mystery.
Ex-MLA accuses cops of shielding guilty
August 6, 2000
Gloom, anger mark the bandh in city
August 5, 2000
City observes 'black day'
August 4, 2000
Traders protest against killing of Amarnath pilgrims
August 3, 2000
Falling water table not due to paddy sowing
August 2, 2000
Pardis behind spate of robberies
August 1, 2000
30 injured in mishap near Laddowal
July 31, 2000
Park or parking? — A contentious issue
July 30, 2000
9000 undertrials in Punjab jails
July 29, 2000
Kaale Kachchewale kill man,
injure wife
July 28, 2000
Kapil to lose award if found guilty
July 27, 2000