Tuesday, August 8, 2000,
Chandigarh, India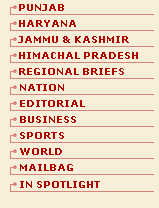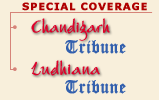 S P O T L I G H T
Speculation dismissed
NEW DELHI, Aug 7 (PTI) — The government today dismissed speculation that Home Minister L.K. Advani has either resigned or has been divested of the charge of the Jammu and Kashmir affairs in the wake of the Kashmir massacre. "They are talking of Hamlet without the Prince of Denmark," Parliamentary Affairs Minister Pramod Mahajan told reporters when asked to comment on Congress leaders "confusion" on the matter.
Hawala racket
NEW DELHI, Aug 7 (UNI) — The Income Tax (IT) Department today said it had detected a hawala racket wherein evasion of Income Tax running into more than Rs 100 crore had been reported. The racket was unearthed during searches and surveys at 14 premises of a group giving accommodation entries in North Delhi and trans-Yamuna areas earlier this week.