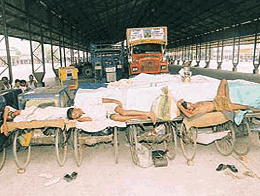 Palledars take a nap in Ambala City Grain Market which remained closed on Wednesday in response to the Haryana bandh call given by various trade organisations. — Tribune photo by Pankaj Sharma


Bhutto, Sharif barred from holding offices
ISLAMABAD, Aug 9 — Pakistani military ruler General Pervez Musharraf issued a decree today that seemed to effectively bar ex-Prime Ministers Benazir Bhutto and Nawaz Sharif from holding party offices because of court convictions.
Govt to upgrade all RECs
JALANDHAR, Aug 9 — In order to cope with the increasing pressure on the seven premier engineering institutes of the country, including six IITs and the lone Indian Institute of Science, the Central Government has decided to upgrade all 17 regional engineering colleges and convert these into autonomous deemed universities within one year.
Speaker admits Cong notice
NEW DELHI, Aug 9 — Lok Sabha Speaker G.M.C. Balayogi today admitted a notice under Rule 184 for a discussion on the appointment of a commission of inquiry into the recent massacres of Amarnath pilgrims and others in Jammu and Kashmir.


Tipsy crew put passengers in driving seat
HISAR, Aug 9 — Road safety level in Haryana has taken a nosedive with roadside dhabas serving liquor free of cost to Haryana Roadways crew in return for illegal halts at these eateries.
EARLIER STORIES
(links open in a new window)
HP flood havoc: herculean task ahead; Kinnaur area remains cut off
August 9, 2000
PM: J&K talks can go beyond statute
August 8, 2000
SAD not to pull out of NDA
August 7, 2000
Govt drops federal agency plan
August 6, 2000
Killings not to hinder talks: PM
August 5, 2000
Centre, Hizb agree to set up panels
August 4, 2000
Night of massacres leaves 105 dead in valley
August 3, 2000
150 feared dead in HP flashfloods
August 2, 2000
Veerappan kidnaps thespian Rajkumar
August 1, 2000
30 Indians held hostage, freed
July 31, 2000
Hurriyat welcomes talks offer
July 30, 2000