IN PASSING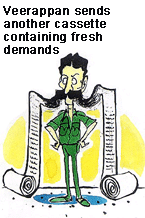 by Sandeep Joshi
Paddy worth 50 cr missing
CHANDIGARH, Aug 10 — As certain government agencies are dilly-dallying on submitting a report to the Punjab Government with regard to missing stocks of paddy worth Rs 50 crore, the Punjab Food and Supplies Minister, Mr Madan Mohan Mittal, has directed the authorities concerned to submit the exact account with full details of the missing paddy in the state within two weeks.

NDA team to visit W. Bengal
Trinamool Cong MPs meet Advani
NEW DELHI, Aug 10 — A delegation of MPs of the National Democratic Alliance will visit West Bengal this week to study the law and order situation in the state.
Wickremanayake is Lanka PM
Bandaranaike retires from politics
COLOMBO, Aug 10 — The World's first woman Prime Minister, Sirimavo Bandaranaike, today stepped down as Sri Lanka's Premier, announcing her retirement from politics after serving the island nation for nearly 18 years in three terms.

Sri Lankan President Chandrika Kumaratunga (right) hands over the letter of appointment to new Prime Minister Ratnasiri Wickremanayake in Colombo on Thursday.
— Reuters photo
Punjab to cut ST on over 24 items
CHANDIGARH, Aug 10 — The Excise and Taxation Department has decided to slash sales tax on several items. It has also decided to amend Section 14 ( B) of the Punjab General Sales Tax Act.
EARLIER STORIES
(links open in a new window)
Pak sabotaged peace process: Advani
August 10, 2000
HP flood havoc: herculean task ahead; Kinnaur area remains cut off
August 9, 2000
PM: J&K talks can go beyond statute
August 8, 2000
SAD not to pull out of NDA
August 7, 2000
Govt drops federal agency plan
August 6, 2000
Killings not to hinder talks: PM
August 5, 2000
Centre, Hizb agree to set up panels
August 4, 2000
Night of massacres leaves 105 dead in valley
August 3, 2000
150 feared dead in HP flashfloods
August 2, 2000
Veerappan kidnaps thespian Rajkumar
August 1, 2000
30 Indians held hostage, freed
July 31, 2000
Hurriyat welcomes talks offer
July 30, 2000